Description
StarTech Desk-Mount Dual Monitor Mount - Vertical - Steel ARMDUALV 
(5 Years Manufacture Local Warranty In Singapore)
Monitor Mount | Desk/Grommet Mount | Height Adjustable | For up to 27" Monitors
Save space by mounting two monitors vertically with this dual monitor mount
Supports two displays 13" to 27", or ultrawide displays up to 34" (max weight per monitor: 22.1 lb./10 kg)
The height of the monitors can be adjusted along the 27.5" (700 mm) pole
Save space by mounting two monitors vertically with this dual monitor mount
Supports two displays 13" to 27", or ultrawide displays up to 34" (max weight per monitor: 22.1 lb./10 kg)
The height of the monitors can be adjusted along the 27.5" (700 mm) pole
This sturdy and sleek desk-mount dual-monitor mount raises two displays off the surface of your desk or table, to save space and increase your productivity. With its heavy-duty steel construction, the dual-monitor mount securely holds two monitors each up to 27" or two ultrawide monitors up to 34", stacked vertically.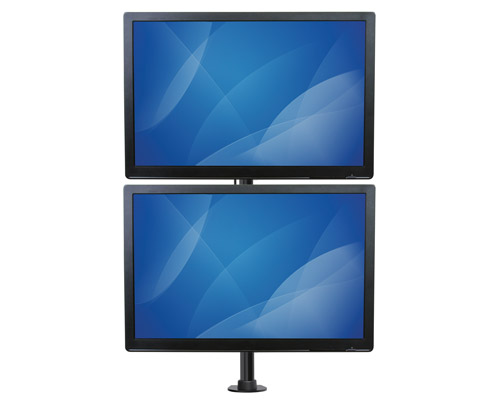 Configure your Displays to Enhance Productivity
The vertical dual-monitor mount holds two displays, one above the other, in a vertical configuration. The height of the monitors can be adjusted, along the 27.5" (700 mm) pole. 
With the double monitor arm, you can work more comfortably, reducing neck and eye strain without having to look side to side when comparing files or reviewing reference material on your screens. It's ideal for comparing spreadsheets, web design, coding, creating and reviewing files, and many others. 
Adjust your Screens for Ideal Viewing
The adjustable monitor stand enables smooth, effortless +45/-45 degree tilt and +45/-45 degree swivel, making it easy to reduce glare and find the perfect viewing angle. It can also rotate a full 360 degrees giving you flexible viewing options. 
Rugged Steel Design
The steel dual monitor arm supports monitors 13" to 27" each in size, or ultrawide monitors up to 34", with a maximum weight of 22.1 lb. (10 kg) per monitor. The surface finish features a powder coating to help resist scratches. 
Easy Installation
The computer monitor mount makes it easy to mount your VESA mount compatible displays above your desk, using the included C-clamp or grommet mount. For easier mounting, the VESA mount features notches that let you pre-set the mounting screws. Cable clips keep your cables neatly out of sight. 
ARMDUALV is backed by a StarTech.com 5-year warranty and free lifetime technical support.
Also seen in the collections
Full Collection for StarTech
Payment & Security
Your payment information is processed securely. We do not store credit card details nor have access to your credit card information.