Poly (Plantronics) VOYAGER Focus 2 UC Bluetooth Headset VFOCUS2-M 213727-02 (2 Years Local Warranty Singapore)
$ 328.00 SGD

$ 328.00 SGD

Save

$ 160.00 SGD
---
---
Poly (Plantronics) VOYAGER Focus 2 UC Bluetooth Headset With Active Noise Cancellation, MS Teams, USB-A VFOCUS2-M 213727-02
(2 Years Local Warranty Singapore)
What's in the box?
🎧 Poly Voyager Focus 2 UC Headset
📡 Poly BT700 Wireless USB adapter
⚡ Charging base & Stand
💼 Carry case
🔌 Charging cable
SMARTLY ENGINEERED FOR AUDIO PERFECTION
Work wherever – our best noise reduction yet
Crazy good stereo sound for calls, media and music
Ultra-comfortable headband
All-day use with up to 19 hours of talk time
Create a focus zone all around you with the Voyager Focus 2. All you hear is your call with three levels of hybrid active noise cancelling (ANC). All they hear is you with our pro-grade microphones using Poly Acoustic Fence technology. It's all the Poly next-level engineering you expect with the wear-it-all-day comfort you need.
3 LEVELS OF HYBRID ACTIVE NOISE CANCELLATION
Experience acoustic excellence others can't touch. Loud and distracting background is just gone with 3-levels of advanced digital hybrid ANC. With this headset, you're ready to have the most critical conversations with confidence.
THEY'LL HEAR WHAT THEY'RE MEANT TO HEAR
It's you – loud and clear. That's all callers hear. The discreet microphone boom on the Voyager Focus 2 is not only ultra-noise canceling but, with its multiple microphone Acoustic Fence technology, literally creates a virtual noise-free bubble in front of your mouth. It's so good it even meets the Microsoft Teams Open Office premium microphone requirements. The focus stays on you, right where it belongs.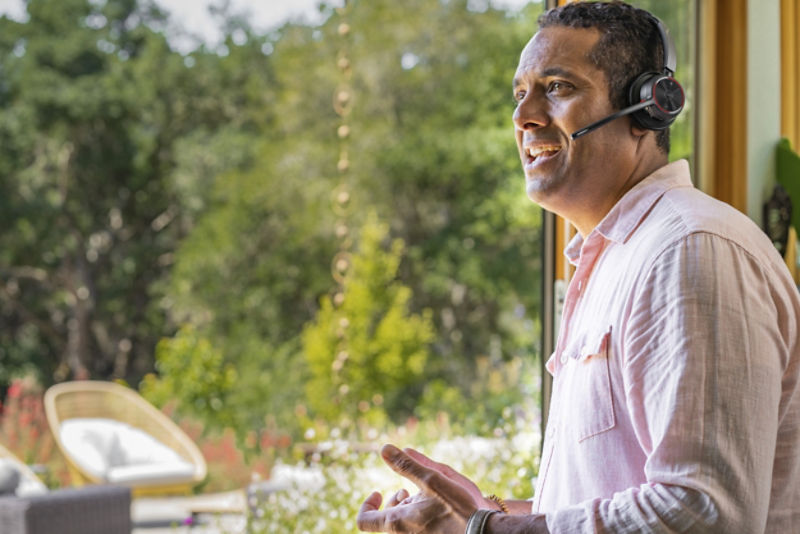 STAY CONNECTED AND POWERED UP ALL-DAY
With up to 19 hours of talk time, it lasts all day. If you need more just plug it in and use it as a corded headset.
Voyager Focus 2 UC: Connect to a computer with the included new BT700 USB adapter for improved wireless range. Or connect to your mobile via Bluetooth v5.1. 

Voyager Focus 2 Office: Connect to your desk phone (via telephone interface cable), computer (via USB-A cable) and mobile (via Bluetooth v5.1) with the office base that also keeps the headset charged.
Video Review
Video How-to:


Video Introduction to Voyager Focus 2


PDF Datasheet
Poly Voyager Focus UC Datasheet
Technical Specification
Technical Specifications
CONNECTS TO

Voyager Focus 2 UC: PC via included BT700 Bluetooth adapter or via USB cable; smartphone via Bluetooth
Voyager Focus 2 Office: PC via USB-A cable, desk phone via included cable; smartphone via Bluetooth. Headset can also connect to PC via included USB cable

RECOMMENDED FOR

Voyager Focus 2 UC: Professionals on calls all day in noisy home or office environments
Voyager Focus 2 Office: Professionals on calls all day in noisy office environments that are looking for connection to desk phones

WIRELESS

Bluetooth v5.1 Class 1
Multipoint connectivity, headset connects to two devices at the same time, remembers up to 8 devices
Supported Bluetooth profiles - A2DP, AVRCP, HSP, HFP
Range

Voyager Focus 2 UC: up to 50 m/164 ft
Voyager Focus 2 Office: Up to 91 m/300 ft

WIRED

Connect to PC via included micro USB cable with audio over USB mode

BATTERY

Battery Capacity: 560mAh
Battery Type: lithium ion
Talk time: up to 19 hours (ANC off) – up to 16 hours (ANC On)
Listening Time: up to 40 hours (ANC Off) – up to 24 hours (ANC On)
Charge time: 2 hours for a full charge
Standby time: up to 30 days

RECEIVE FREQUENCY RESPONSE

Dynamic EQ optimized for PC wideband voice telephony up to 7 kHz or for multimedia 20 Hz to 20 kHz

ANC TECHNOLOGY

 Digital Hybrid ANC using two digital MEMS microphones and 2 analog ECM microphones with three user settings (Off/low/high)

SMART SENSORS

Answer calls by simply putting on the headset, mute by taking the headset off and pause/resume music

HEARING PROTECTION

SoundGuard DIGITAL: G616 support limits the level to 102 dBSPL; Time-weighted average prevents average daily noise exposure from exceeding 85dBA*

MICROPHONE AND TECHNOLOGY

Discrete noise canceling boom with Acoustic Fence technology to Microsoft Teams OpenOffice Premium microphone
Smart discrete microphone boom: wear on either side and maintain location of R/L stereo. Rotate boom up to mute and down to unmute

HEADSET CONTROLS AND LIGHTS

Call answer/end, mute, volume +/-, power ON/OFF/PAIRING, ANC: Off, low, high
Online Indicator - Two LED indicators onspeaker housing shows in a call status

HEADSET BASE CONTROLS

Voyager Focus UC with Charge Stand: Desk charger only
Voyager Focus Office: Desk phone, Softphone selector button. Microsoft Teams button (Microsoft Teams version only)

HEADSET WEIGHT
MANAGEABILITY

Cloud: Poly Lens service
Local (Windows/Mac): Poly Lens Desktop App, (some solutions sold separately)

CERTIFICATION

Microsoft Teams (Teams version only)

WARRANTY

2-year limited warranty included
Similar brand and models of noise cancellation Bluetooth Wireless Headphones

 

 

<!-– -->