Description
Zebra Symbol USB DS4308-SR Black TraceTogether QR Scanner (with Stand) DS4308-SR7U2100SGA -EOL
ANY BAR CODE. A NEW LEVEL OF PERFORMANCE. MORE VERSATILITY. SCAN ANY 1-D OR 2-D BAR CODE FARTHER AND FASTER WITH NEXT GENERATION SCANNING TECHNOLOGY.

The DS4308 is a feature-rich next-generation 2-D imager that resets the bar for scanning performance, scanning range, versatility and ease-of-use. Workers can capture virtually any bar code faster than ever, whether it is displayed on a smartphone, tablet or computer or printed on a label - even if it is scratched, damaged or dirty. Its small and lightweight design offers the ergonomics your workers need for all-day comfort in the most scan intensive jobs.
A variety of models meet a wide range of business needs - from the Point-of-Sale in a retail store to the light industrial manufacturing production line.
Regardless of which model you choose, you get one powerful scanner that does the job of two. The Standard Range (SR) model offers an extraordinary range, eliminating the need to purchase separate standard and extended range scanners.
The High Density (HD) model scans standard bar codes as well as the tiny, dense barcodes commonly found on jewellery tags, consumer electronics and electronic components - eliminating the need to purchase separate standard and high-density speciality scanners. And driver's license parsing can be added to either model. The result? An extraordinary feature set and an extraordinary value.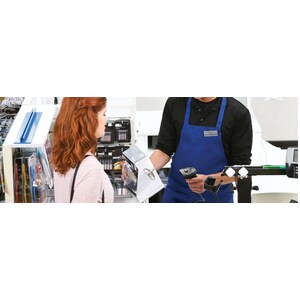 PRZM Intelligent Imaging technology for next-generation performance 
Resets the bar for 2-D imaging by improving decode performance and snappiness, dramatically improving the user experience, user productivity, throughput and wait times. 
Scan any bar code on any medium 
Scans 1-D, 2-D and PDF417 bar codes printed on paper labels or displayed on mobile devices or computer screens. 
Megapixel sensor for maximum data capture flexibility Delivers the resolution required for longer-distance scanning, clear photos, sharp signatures and more accurate OCR data. 
Largest "sweet spot" for can't-miss point-and-shoot scanning simplicity With a decode range that allows users to scan any bar code type at any density nearer and farther than any other scanners in its class, scanning is truly second nature - users just point and shoot. 
Omni-directional scanning 
Enables true point-and-shoot scanning simplicity by eliminating the need to align bar code and scanner. 
Durable design for superior uptime 
Built to survive a 6 ft./1.83 m drop to concrete, the DS4308 delivers reliable operation, despite the inevitable everyday drops. 
Adjustable beeper volume and frequency tone 
You get the flexibility to adjust beeper characteristics for your environment - from a quiet boutique store to a noisy light industrial manufacturing production line. 
Superior out-of-box experience 
Smart auto-host detect cables automatically determine which interface is attached, eliminating the need to scan numerous configuration bar codes. Over 90 international keyboards are hosted within the scanner for easy setup, all around the world. 
Unsurpassed aiming technology 
Crisp and bright aiming dot has the reach and brightness needed for long-distance scanning - as well as picklist mode. 
Easy on the eyes 
Thanks to a special LED wavelength and recessed lighting, when a bar code is scanned, the light that is emitted is soft and unobtrusive, preventing eye fatigue and improving the environment for customers and workers.

Tech Specs
Basic

Host Interface:
USB
Product Type:
Handheld Barcode Scanner
Colour:
Black
Connectivity Technology:
Cable
Brand Name:
Zebra
Barcode Dimension:
2D
1D
Image Sensor Type:
Imager
General Information

Product Type:
Handheld Barcode Scanner
Manufacturer Part Number:
DS4308-SR7U2100SGA
Manufacturer Website Address:
http://www.zebra.com
Manufacturer:
Zebra Technologies Corporation
Product Model:
DS4308-SR
Product Name:
DS4308-SR Handheld Barcode Scanner
Brand Name:
Zebra
Interfaces/Ports

Host Interface:
USB
Miscellaneous

Additional Information:

USB Cable separate

Environmentally Friendly:
Yes
Physical Characteristics

Weight (Approximate):
161.9 g
Colour:
Black
Length:
98 mm
Height:
164.6 mm
Width:
67.1 mm
Technical Information

Barcode Symbology Supported:
1D:

UPC/EAN
UPC/EAN with supplementals
Bookland EAN
ISSN
UCC Coupon Extended Code
Code 128
GS1-128
ISBT 128
Code 39
Code 39 Full ASCII
Trioptic Code 39
Code 32
Code 93
Code 11
Matrix 2 of 5
Interleaved 2 of 5
Discrete 2 of 5
Codabar
MSI
Chinese 2 of 5
GS1 Data Barvariants
Korean 3 of 5
ISBT Concat

2D:


PDF417
Micro PDF417
Composite Codes
TLC-39
Data Matrix
Maxicode
QR Code
Micro QR
Aztec
Han Xin

Postal:


Australian Post
US PLANET
Royal Mail 4 State Customer
US POSTNET
KIX Code (Dutch)
UK Postal
Japan Post
UPU 4 State Postal FICS (Post US4)
USPS 4 State Postal (Post US3)
Canadian Post (Postbar)

Connectivity Technology:
Cable
Barcode Dimension:
1D
2D
Image Sensor Type:
Imager
VPN
: DS4308-SR7U2100SGA
 | 
SKU
: 2852422
Also seen in the collections
Full Collection for Zebra
Zebra Symbol Barcode Scanner
Payment & Security
Your payment information is processed securely. We do not store credit card details nor have access to your credit card information.