Description
Zebra Symbol USB CS4070 Bluetooth Barcode & TraceTogether QR Scanner CS4070-SR00004ZMWW -EOL
If your workers are using tablets, laptops and smartphones, they all share a common challenge - the consumer-grade camera used to capture bar codes makes scanning slow, uncomfortable and impossible unless the bar code is perfect.
Introducing the Bluetooth Symbol CS4070, the easy way to add enterprise-class scanning to any mobile device.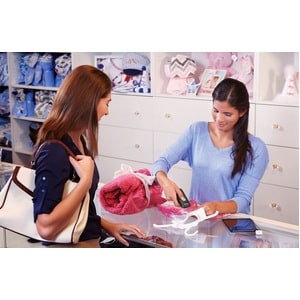 This affordable pocket-sized wireless device offers our most advanced bar code scanning technology, allowing your workers to capture virtually any 1D or 2D bar code in any condition in the time it takes to press the trigger - even if it is damaged, dirty or scratched.
Its long-range and omnidirectional scanning deliver true point-and-shoot simplicity. And the natural feel delivers comfortable no-fatigue scanning - no matter how many times a day your workers need to scan.
Easy to deploy
Pre-configured and Ready to Use, Right Out of the Box Since the default settings are optimized for the majority of scanning applications, you can use the DS2200 Series imager the moment you take it out of the box - no configuration required.
Unsurpassed Scanning Range
Workers can scan barcodes across a wide range (0.5 in./1.23 cm to 14.5 in./36.8 cm), improving checkout speed and reducing training time.
Point-and-shoot Scanning Simplicity With omni-directional scanning, users never need to line up the imager and the barcode - unlike 1D scanners.
Auto-host Detect Cables
Just plug the DS2200 Series into your Point of Sale (POS) and the auto-host detect cables will automatically identify the interface and connect the imager, simplifying and reducing setup time.
Easy Integration with a Tablet-based POS
The DS2200 Series offers all the features you need to add high-quality scanning to your tablet-based POS. The Micro USB cable provides a low-cost charging alternative to a cradle. And with our simplified app development tools, you can easily configure and update the DS2200 Series right from the tablet
Deploy Anywhere in the World
With support for 97 international keyboards, the DS2200 Series is easy to deploy all around the world.
Easily Customize Settings with 123Scan
This complementary software tool is so intuitive that even a first time user can easily set up a DS2200 Series imager. The wizard-driven interface makes it easy to embed all settings into a single programming barcode, enabling you to configure your devices with a single scan.
Easy to use
Instant Decoding with PRZM Intelligent Imaging
Only from Zebra, PRZM's software decode algorithms for the DS2200 Series deliver superior performance on poor quality barcodes. The result is first-time, every-time scanning to help your workers improve productivity at the checkout counter.
Tech Specs
Basic

Host Interface:
USB
Product Type:
Handheld Barcode Scanner
Colour:
Black
Connectivity Technology:
Wireless
Brand Name:
Zebra
Bluetooth:
Yes
Barcode Dimension:
2D
1D
Image Sensor Type:
Imager
General Information

Product Type:
Handheld Barcode Scanner
Manufacturer Part Number:
CS4070-SR00004ZMWW
Manufacturer Website Address:
http://www.zebra.com
Manufacturer:
Zebra Technologies Corporation
Product Model:
CS4070-SR
Product Name:
CS4070-SR Handheld Barcode Scanner
Brand Name:
Zebra
Interfaces/Ports

Host Interface:
USB
Miscellaneous

Additional Information:

USB Cable separate
Network & Communication

Bluetooth:
Yes
Physical Characteristics

Weight (Approximate):
93 g
Colour:
Black
Length:
111.5 mm
Height:
25.9 mm
Width:
45.5 mm
Technical Information

Barcode Symbology Supported:
1D and 2D symbologies
Connectivity Technology:
Wireless
Barcode Dimension:
2D
1D
Image Sensor Type:
Imager
VPN
: CS4070-SR00004ZMWW
 | 
SKU
: 2741933
Also seen in the collections
Full Collection for Zebra
Zebra Symbol Barcode Scanner
Payment & Security
Your payment information is processed securely. We do not store credit card details nor have access to your credit card information.