Description
Samson Meteor Mic - USB Studio Condenser Microphone
Break On Through.
Meteor Mic is a portable USB studio condenser microphone for recording directly to your computer. Perfect for your home studio, Meteor Mic is also ideal for podcasting, music recording, gaming, Skype or streaming. With Meteor Mic, you can make incredible recordings that are out of this world.
Solid And Sound
Producing rich audio recording for any application, Meteor Mic features a large 1" (25mm) proprietary studio capsule with a wide, smooth frequency response that captures every nuance of your vocal or instrument performance. Its cardioid pickup pattern records sounds that are directly in front of microphone, minimizing off-axis sound from entering your project.
Making the Magic
Since there's no need for drivers, you can start recording right out of the box on any computer. And Meteor Mic is compatible with most computer digital audio workstations, video conferencing and VOIP software. And 16-bit, 44.1/48kHz resolution give you professional audio results no matter what you're recording.
Record in Style
Meteor Mic is designed to allow you to sound your best wherever your projects take you. The fold-back leg design allows the microphone to be easily transported anywhere and to adjust to the optimal position for any recording application. An integrated mic stand adapter on the bottom of the microphone enables it to be mounted to a boom arm or desktop stand.
Take Control
Zero-latency headphone output with level control and a microphone mute switch provide complete control during your projects. A USB cable and carry pouch are included, so you can always take the Meteor Mic with you on your travels.
Features
Large, 1" (25mm) diaphragm USB studio condenser microphone
Plugs directly into any computer with a USB input, no drivers required
Compatible with most computer-based digital audio workstation software
Cardioid pickup pattern
16-bit, 44.1/48kHz resolution
Smooth, flat frequency response of 20Hz–20kHz
Stereo 1/8" headphone jack for no latency monitoring
Headphone volume control with microphone mute switch
Fold-back leg design provides optimal mic positioning
Works with iPhone or iPad using Apple's Lightning USB Camera Adapter
Durable chrome-plated body
Includes USB cable and carry pouch
Frequency Response
Polar Pattern
Resources for Meteor Mic
Downloads & Manuals
Full Collection for Samson
Samson
Original price:$ 70.00 SGD
Current price: $ 65.00 SGD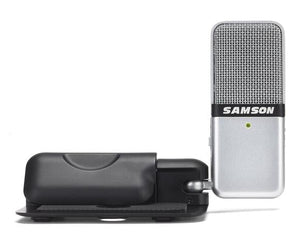 Original price:$ 70.00 SGD
Current price: $ 65.00 SGD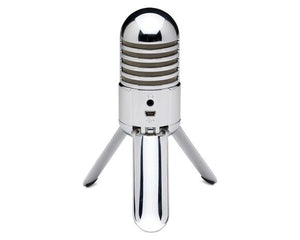 Original price:$ 107.00 SGD
Current price: $ 105.00 SGD
Payment & Security
Your payment information is processed securely. We do not store credit card details nor have access to your credit card information.