Description
Poly (Polycom) Studio X50 TC8 Bundle 2200-86270-102

(1 year Local Warranty In Singapore) 

✔️ Ideal for rooms of up to 10 participants

✔️ 
Keep it simple, no computer needed

✔️ 
Enjoy full boardroom-quality audio

✔️ 
Share content easily wired or wirelessly
✔️ Dual monitor support ensures you have the ideal setup for many types of rooms
✔️ Be heard clearly with our next generation microphone array
✔️ Surround everyone with the rich, legendary sound with stereo speakers that deliver immersive, room-filling audio
The Poly Studio X50 video bar delivers radical simplicity in a small, elegant package. In small- and medium-sized rooms, connect easily with whatever video collaboration software you may use. Experience full boardroom-quality audio, advanced camera capabilities, and quick wireless content—all in one sleek video bar. And say goodbye to unnecessary pucks, cords, and cables, along with the PC or Mac to drive the meeting, since the Poly Video OS runs the show. Easy to install, easy to manage.


Benefits at glance
• Get any small or medium room up and running in minutes,
with a simple setup process and all-in-one design
• Make it easy for anyone, even guests, to share content wirelessly from
any personal device—with no special apps or tools needed
• Powerful audio pickup and incredible noise-blocking technology
allows every word to be heard without distractions
• On-board support for cloud service platforms means no room PC or Mac is required
POLY TC8 , KICK OFF AND DIVE IN WITH EASE
The meeting's about to start. You're gathering your thoughts. You shouldn't have to worry about how to launch the meeting. Our intuitive touch interface lets you access video conferencing solutions with ease. Its sleek design features an 8" high-resolution touch display to make control options clear and accessible. Launch, join and share in an instant while keeping your focus on the task at hand.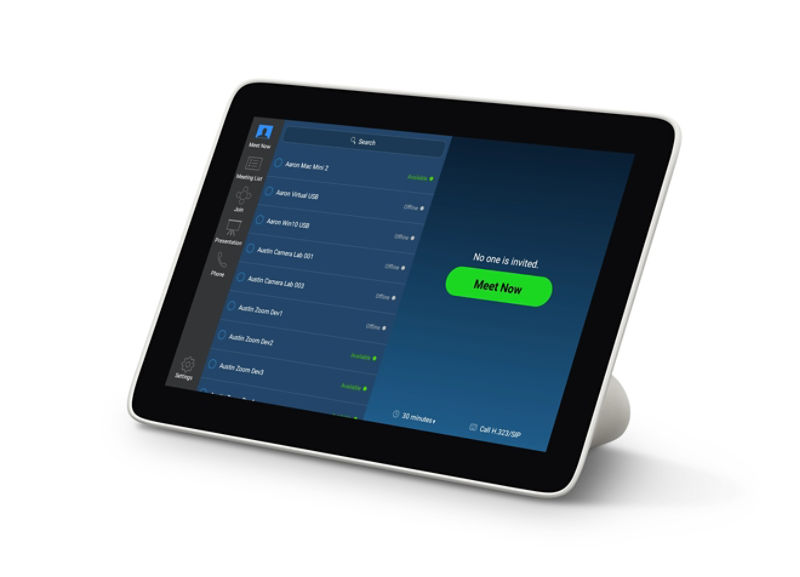 This intuitive touch interface provides easy access to Poly video conferencing solutions. The sleek design features an 8" high-resolution touch display to ensure that the control options are clear and accessible. A single cable carries both power and data to reduce clutter. After using the Poly TC8, you'll never stress about getting your meeting going again. Having confidence that you can easily initiate, join, or share content lets you focus on better collaboration.
• Integrated calendar for one-touch to join a call
• Easily share content, adjust the camera, and change participant layouts
• Compatible with Poly Studio X family and Poly G7500

Plantronics and Polycom rebranded as Poly. That's right, both Plantronics and Polycom are now simply Poly.

The USB video bar built for small rooms and big ideas
Combining the exceptional audio and video quality you expect from Polycom with the simplicity you need for everyday use, Polycom Studio is the USB video bar ideal for smaller rooms and huddle spaces. Its plug-and-play functionality works with nearly any video platform and fits any budget.
Improve meeting engagement with highly advanced audio and video technology
Focus on the meeting, not the controls, with automatic group framing and speaker tracking
Meetings start on time with simple-to-use, plug-and-play USB connectivity
Make managing and deploying easier at scale with remote management over Wi-Fi
Flexible calling through compatibility with nearly every video platform, including Microsoft Teams, Skype for Business, Zoom, GoToMeeting, Cisco Webex and more
Fight office distractions and background noise with Polycom NoiseBlock and Polycom Acoustic Fence technology
Polycom Studio makes managing many huddle rooms a simple process that doesn't require on-site, hands-on attention. Don't waste your time running from room to room updating multiple systems for every new release of the software—spend that time building great group collaboration experiences that your users will love
DISCOVER THE POLYCOM DIFFERENCE
With room-filling sound and pinpoint accurate microphones, Polycom Studio enables participants on both ends of your calls to hear and be heard clearly. Developed through decades of audio science, Polycom Studio has the best audio quality in its class, letting you experience meetings like you're there in person. With intelligent features like Polycom Acoustic Fence and NoiseBlock, Polycom Studio automatically mutes and removes distracting background noises and other unwanted sounds.
Polycom Cloud Solution Partners
Polycom Studio works with nearly any cloud-based video platform, giving you the confidence that it works for all your platforms of today or tomorrow. Our video bar works with the below platforms and many more!
POLY STUDIO X COMPARISON
| | | |
| --- | --- | --- |
| | | |
| Native Zoom Interface (Zoom Mode) | ✅ | ✅ |
| H.323 / SIP (Poly Video Mode) | ✅ | ✅ |
| 4K camera with automatic framing and tracking | ✅ | ✅ |
| NoiseBlockAI | ✅ | ✅ |
| Wireless Content Sharing | ✅ | ✅ |
| Number of Speakers | 1 (mono) | 2 (stereo) |
| Poly TC8 available for easy touch control | ✅ | ✅ |
| Monitors Supported | 1 | 2 |
| Recommended number of participants | Up to 6 | Up to 10 |
| Camera Zoom | 4x | 5x |
Product specifications
PACKAGE INCLUDES:
Poly Studio X50
Cable bundle
Monitor clamp
Privacy cover


VIDEO STANDARDS AND PROTOCOLS
264 AVC, H.264 High Profile, H.265


VIDEO INPUT
VIDEO OUT
1x HDMI
Touch display compatible


PEOPLE VIDEO RESOLUTION
4K, 30 fps (TX and RX) from 2048 Kbps
1080p, 60 fps from 1740 Kbps
1080p, 30 fps from 1024 Kbps
720p, 60 fps from 832 Kbps
720p, 30 fps from 512 Kbps


CONTENT VIDEO RESOLUTION
Input

UHD (3840 x 2160)
HD (1920 x 1080p)
WSXGA+ (1680 x 1050)
UXGA (1600 x 1200)
SXGA (1280 x 1024)
WXGA (1280 x 768)
HD (1280 x 720p)
XGA (1024 x 768)
SVGA (800 x 600)


Output
UHD (3840 x 2160)
WUXGA (1920 x 1200)
HD (1920 x 1080)
WSXGA+ (1680 x 1050)
SXGA+ (1400 x 1050)
SXGA (1280 x 1024)
HD (1280 x 720)
XGA (1024 x 768)


Content frame rate
5–60 fps
(up to 4K resolution at 15 fps in call)


CONTENT SHARING
Poly Content App support
Apple Airplay
Miracast
HDMI input
Whiteboarding


CAMERA
4x digital zoom
120° FOV
UHD 2160p (4K) capture resolution
Automatic people framing


AUDIO INPUT
AUDIO OUTPUT
OTHER INTERFACES
1x USB-A (3.0)
1x USB-C
Bluetooth 5.0
WiFi 802.11a/b/g/n/ac (MIMO)
Multi-channel Concurrency


AUDIO STANDARDS AND PROTOCOLS
22 kHz bandwidth with Polycom Siren 22
technology, AAC-LD (TIP calls), G.719
14 kHz bandwidth with Polycom Siren 14
technology, G.722.1 Annex C
7 kHz bandwidth with G.722, G.722.1
4 kHz bandwidth with G.711, G.728,G.729A


NETWORK
IPv4
1x 10/100/1G Ethernet
Auto-MDIX
323 and/or SIP up to 6 Mbps in Poly App video mode
Polycom Lost Packet Recovery (LPR) technology
Dynamic bandwidth allocation
Reconfigurable MTU size
Web proxy support—basic, digest, and NTLM
Simple Certificate Enrollment Protocol (SCEP)


Polycom Video Conferencing Software 
Compatibility
Compatible with any application that supports standard USB audio and video drivers, including but not limited to:
Microsoft Skype for Business

Microsoft Skype

Microsoft Teams

Zoom

LogMeIn GoToMeeting®

BlueJeans Network

Google Hangouts™ communication platform

Amazon Chime

Cisco Webex®

VidyoDesktop™

Polycom RealPresence Desktop
Manageability (via Wi-Fi)
Polycom Companion App (running on Win/Mac PC connected to the device)

Polycom RealPresence Resource Manager

Polycom Device Management Service
Warranty Information
1-year limited hardware warranty
View Datasheet for list of full technical specifications
TC8 Specifications

PACKAGE INCLUDES:
Poly TC8 and RJ45 (LAN) cable
Setup sheet
Printed warranty statement
PHYSICAL CHARACTERISTICS
• Physical dimensions: 123 x 205 x 79 (mm)
• Micro-B USB 2.0 (diagnostics)
• Mechanical locking mechanism (Kensington lock)
• Weight: 812 grams
OPERATING ENVIRONMENT
• Temperature: 0ºC to 40ºC
• Non-operating: -20ºC to 60ºC
ALTITUDE
• Operating: 0 to 10,000 ft ASL
• Non-operating: 0 to 35000 ft ASL
COMPATIBLE SYSTEMS
• Poly G7500 (min 3.0 software)
• Poly Studio X30 and Studio X50
USABILITY
• Display: 8-inch screen
• Aspect ratio: 16 x 10
• Resolution: WXGA (1280 x 800)
• Designed with built-in stand support—no external stand required
• Viewing angle: 75 degrees (U/D/L/R)
• Positioning/placing angle: 60 degrees
• Tap and touch control to access call controls and administrative menus
• Intuitive user interface
TECHNOLOGY
• Capacitive touch sensor supports multi-touch functionality
• Direct API command through network
• LCD panel with LED backlighting
• IPS (In-Plane Switching)
ELECTRICAL
• Power over Ethernet (PoE), compatible with IEEE 802.3af Class 3
• Low-power sleep mode
WARRANTY
• One-year return to factory parts and labour
• 90-day software warranty
TC8 PART NUMBER
2200-30760-001

Payment & Security
Your payment information is processed securely. We do not store credit card details nor have access to your credit card information.