Description
Kofax (Nuance) Power PDF 5 Standard for Windows (PPD-PER-0346-001U) (Pre-Order Lead Time 4-6 Weeks)
Overview
Create, edit, convert to and from PDF files, JPG, Word, Excel and PowerPoint
Compile multiple PDF files into one PDF
Digital and stamp-based signatures
Password encryption 
Why do we need Kofax Power PDF?
Kofax Power PDF is helpful for users such as Executive assistant, from various sectors like Tenders officers, Project department, Training department, Travel department
Benefits of Kofax Power PDF:
Ease of use –
Intuitive Interface (similar to MS office), "Find a tool" search capabilities, online help available for the user, PDF viewing, editing, creation
Connectors to Key Market Solution –
DMS, Cloud storage, DocuSign, Promote Collaborations
Cost-Effective –
Perpetual Licensing, No M&S for single licenses
8 Major Things You Need To Know About Kofax
Kofax lets customers standardize on one fully PDF-compliant solution with versions for Windows and Mac and a Windows-based PDF Reader.
Kofax leads the market in digital document workflows and Power PDF Advanced is fully integrated with these solutions.
Security is top of mind: Power PDF Advanced gives users easy tools to secure their PDF documents, like redaction, metadata scrubbing, document encryption, digital certificates and signatures and supports working with documents that have FileOpen DRM applied to them.
Creating interactive forms is one of the most utilized capabilities in PDF software, and Power PDF Advanced fully supports PDF forms creation and submission.
Kofax invented the document conversion and Power PDF Advanced utilizes the #1 document conversion solution, Kofax OmniPage OCR.
Power PDF Advanced makes owning PDF productivity software easy with the simplest licensing model and the best Total Cost of Ownership (TCO) available.
Power PDF is the hassle-free PDF solution that delivers peace-of-mind for IT departments: Simple, yet powerful, customization and deployment tools make Power PDF Advanced the choice for administrators looking for a PDF solution that fits seamlessly into their IT ecosystem.
Power PDF Advanced is not the target of hackers, as Adobe Acrobat is, which is why they Improved SECURITY, PDF editing & conversions features to promote collaborations
Frequently Asked Questions
What is the refund policy? Kofax offers a 30-day money back guarantee on Power PDF, PaperPort and OmniPage individual licenses. Simply reply to your confirmation email, or send an email to esales@kofax.com within 30 days of your purchase with your order number and reason for cancellation, and it'll be processed within 3 business days. You may also call
What is the support policy? Kofax offers a 90-day product support warranty from date of purchase on all desktop products, including Power PDF, PaperPort and OmniPage. This covers installation, setup, configuration and reinstallation of software during this period. There is also limited support available beyond 90 days. You can learn more about available coverage here.
How many machines can I install my Power PDF license on? As Power PDF Standard, Standard for Mac and Advanced are single licenses, they are meant to be installed on your primary machine. Our EULA permits installation on a second machine for backup use. However, you can only use it on one machine at a time. If you wind up getting a new computer, please remember to uninstall so that you can free up an activation.
How do I take a trial? You can signup for a free 15-day trial by selecting the product you would like to try:
All functionality and features are available to trial users, the only limitation is the 15-day duration. No credit card is required for the trial.

Is Power PDF a subscription? Power PDF is a perpetual license, which means that once you buy a license, you own it forever. There are no additional monthly or annual fees if you purchase an individual license. For volume licenses, you have the option for an annual maintenance package, which includes all updates and upgrades, as well as extended tech support.
Is Kofax Power PDF 4 compatible with Windows 10? Yes it is, and the software is fully integrated into Office 365, so you can utilize the features of Power PDF from within your favorite Office apps including Word, PowerPoint and Excel.
Power PDF Advanced vs. Adobe Acrobat Pro DC
 
Power PDF
Advanced
Acrobat
Pro DC
Create PDF's and export to Word, Excel or PowerPoint


Convert documents and images to PDF files
Combine multiple documents into one PDF file
Create a password-protected PDF
Easily create, sign and send forms
Microsoft Office style ribbon user interface to minimize learning curve and maximize productivity
Advanced Edit — word processing capabilities within your PDF file
Create a table of contents from bookmarks
Convert Assistant desktop utility or similar
Convert selection using OCR & convert to Word, Excel, PowerPoint, WordPerfect for scanned (image) PDF files and text-based PDF files
Looks like Search™ to search for Social Security numbers, telephone numbers or any alphanumeric pattern you define
View protected PDF files & apply protection to PDFs using Microsoft Active Directory Rights Management Services (AD RMS)
Organize and manage a library of PDF security envelopes
Drag and drop security profiles to quickly and easily secure documents
One-click professional scanning with auto find-and-mark technology
Click here for a detailed comparison between Power PDF Advanced and Adobe Acrobat
Different Versions
Kofax (Nuance) Power PDF Standard for Mac (PPD-PER-0256-001U)
Kofax (Nuance) Power PDF Standard for Windows (PPD-PER-0255-001U)
Kofax (Nuance) Power PDF Advanced for Windows (PPD-PER-0252-001U)
Note : Lead time - up to 4-6 Weeks
Also seen in the collections
Full Collection for Kofax
Kofax Nuance Power PDF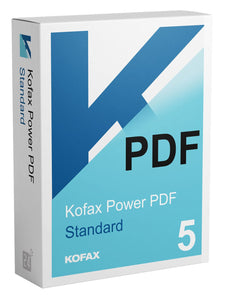 Original price:$ 2,218.00 SGD
Current price: $ 182.00 SGD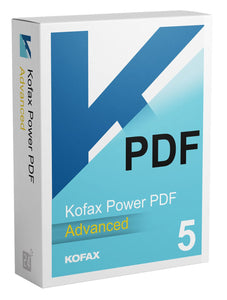 Original price:$ 2,800.00 SGD
Current price: $ 253.00 SGD
Payment & Security
Your payment information is processed securely. We do not store credit card details nor have access to your credit card information.