Samsung Flip 2 - Digital Flipchart for Business
A 4K UHD digital flipchart that drives collaboration and expands presentation capabilities in today's fast-paced and digital-centric workflow.
Draw, write & inspire new ideas
Pen mode notation
Samsung Flip 2 provides users with a smooth and familiar pen to paper writing experience in a variety of available colours, styles and widths. Up to 4 people can write simultaneously, using the provided stylus or any like object as a writing tool. In addition, users can quickly erase the drawings with finger or palm swipe.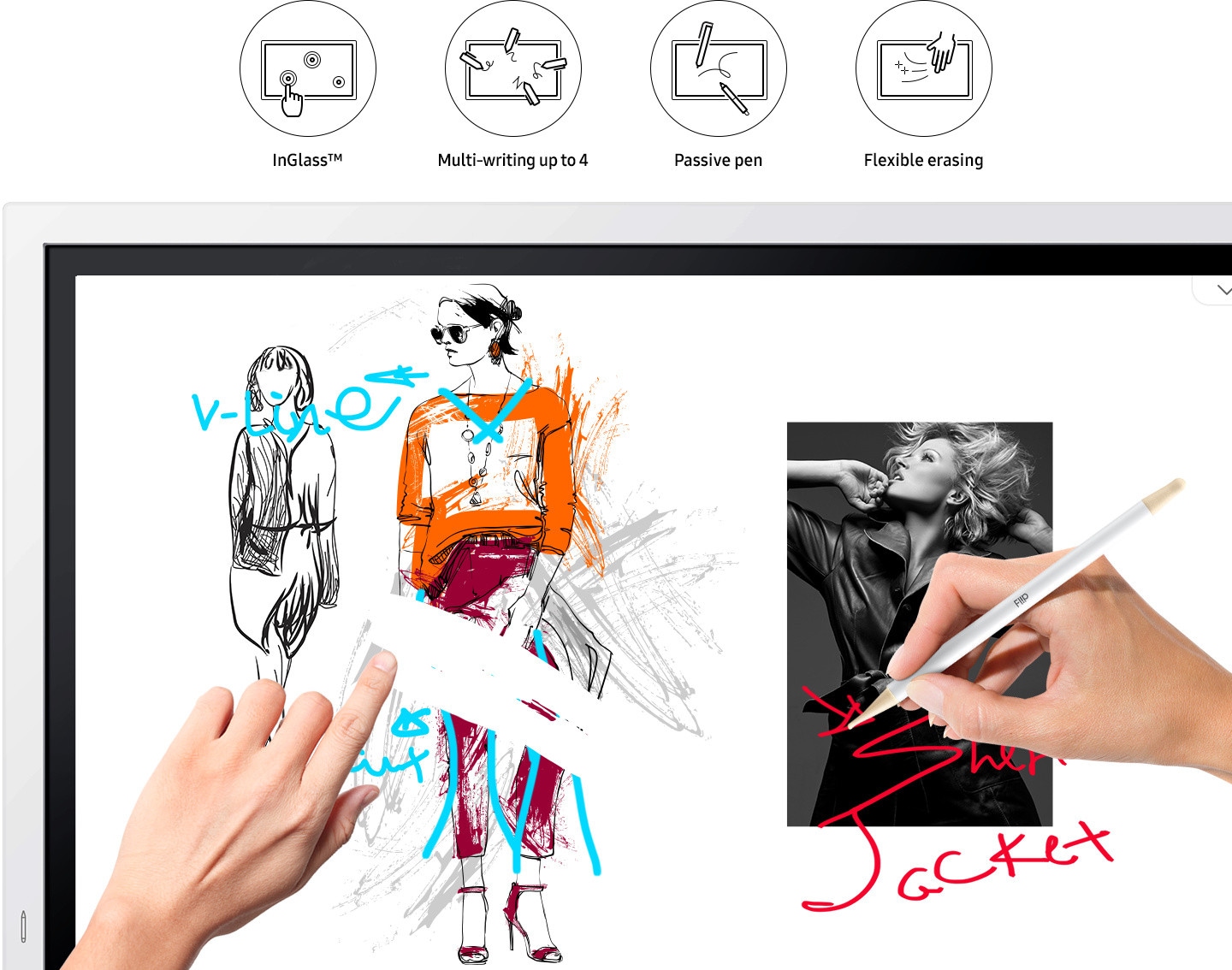 Creating a masterpiece
Brush mode notation
On brush mode, Samsung Flip 2 recognises a wide range of thicknesses, ensuring users can create art at the stroke of a brush. Water and oil painting modes allow different styles and textures, while the Flip 2 also gives users a full, vibrant colour palette, even allowing flexible colour mixing.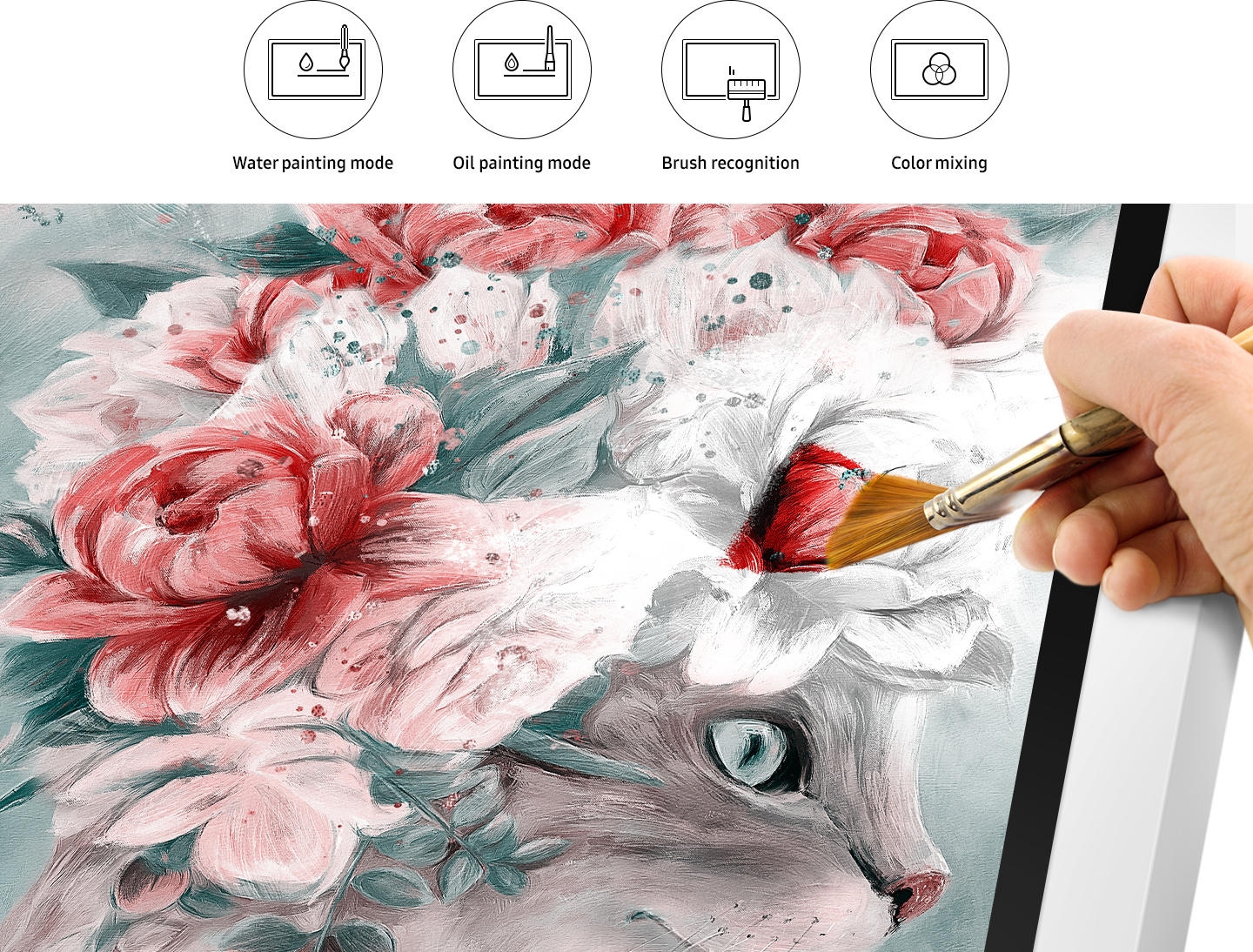 Write on any background
Annotation on
Samsung Flip 2 allows users to write on any background source. By simply clicking the note layer button, users can enjoy smooth writing anytime, anywhere and on any content displayed, without affecting any work behind the original layer.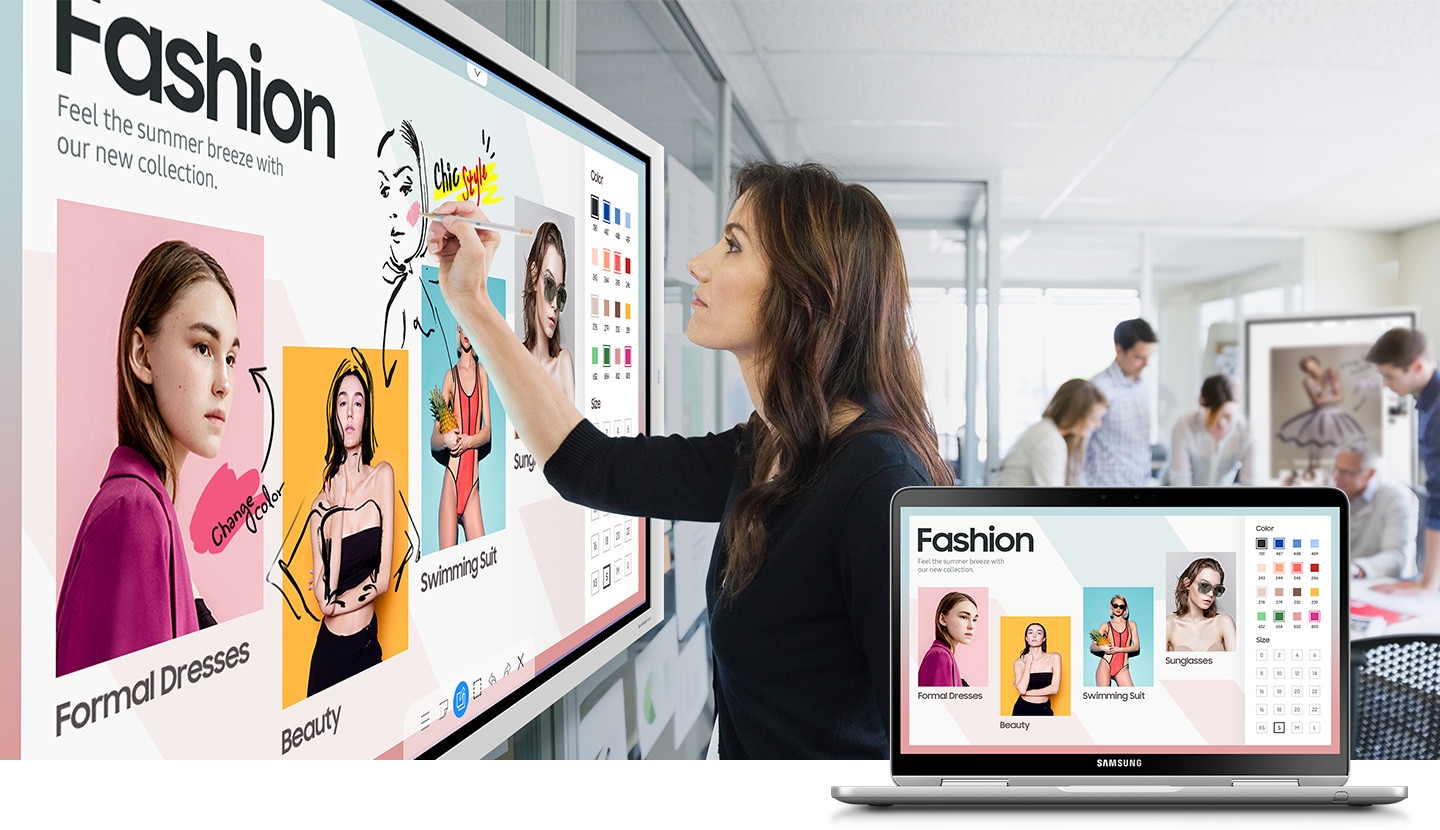 Flexible image editing
Selection tool & Merge to roll
Bringing versatility to the board. With Samsung Flip 2, users can quickly and easily select, move, crop, capture, and edit any image. Each image can also be merged to the roll with just one click of a button , allowing it to be edited or erased.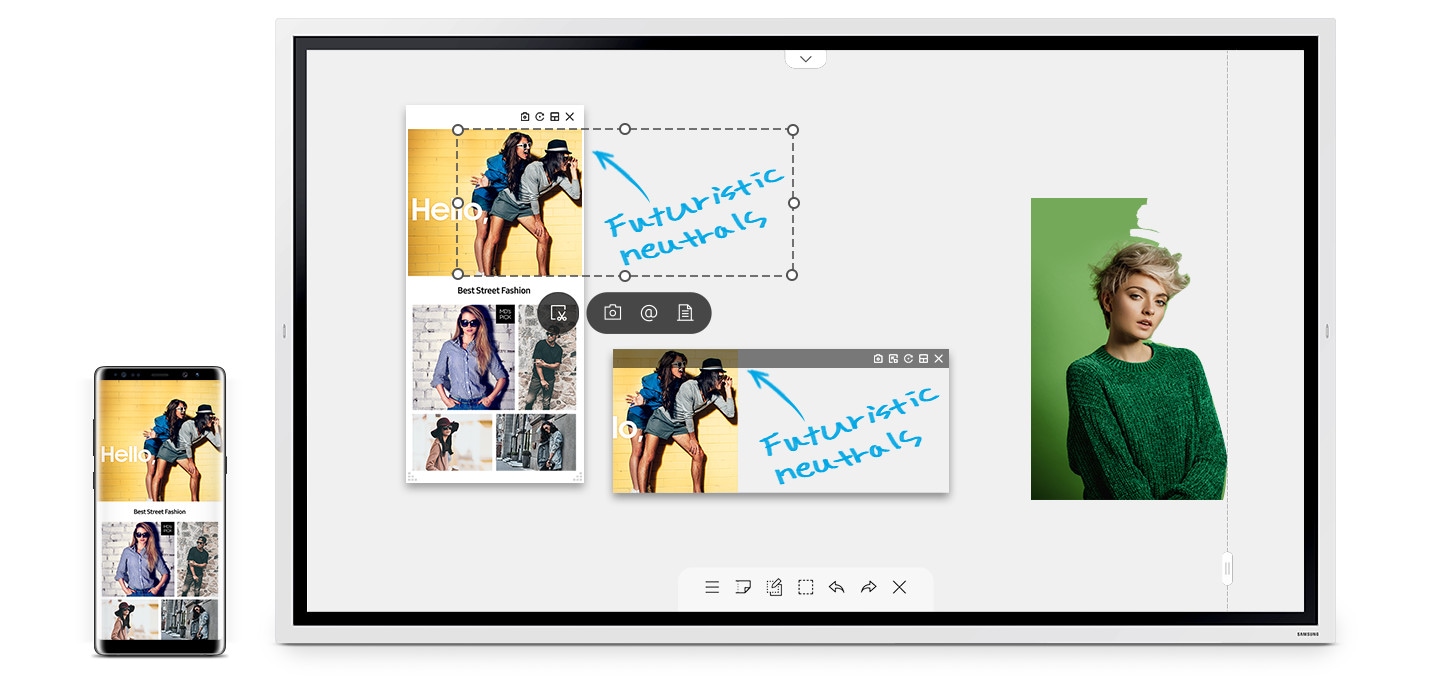 Suitable for all business needs
Various form options
Samsung Flip 2 can be used for a wide range of business applications, providing embedded versatile templates. You can use the Flip 2 as a calendar, scheduler, note or checklist board. Samsung Flip 2 perfectly matches any business need, enabling users to utilise the display in various customised ways.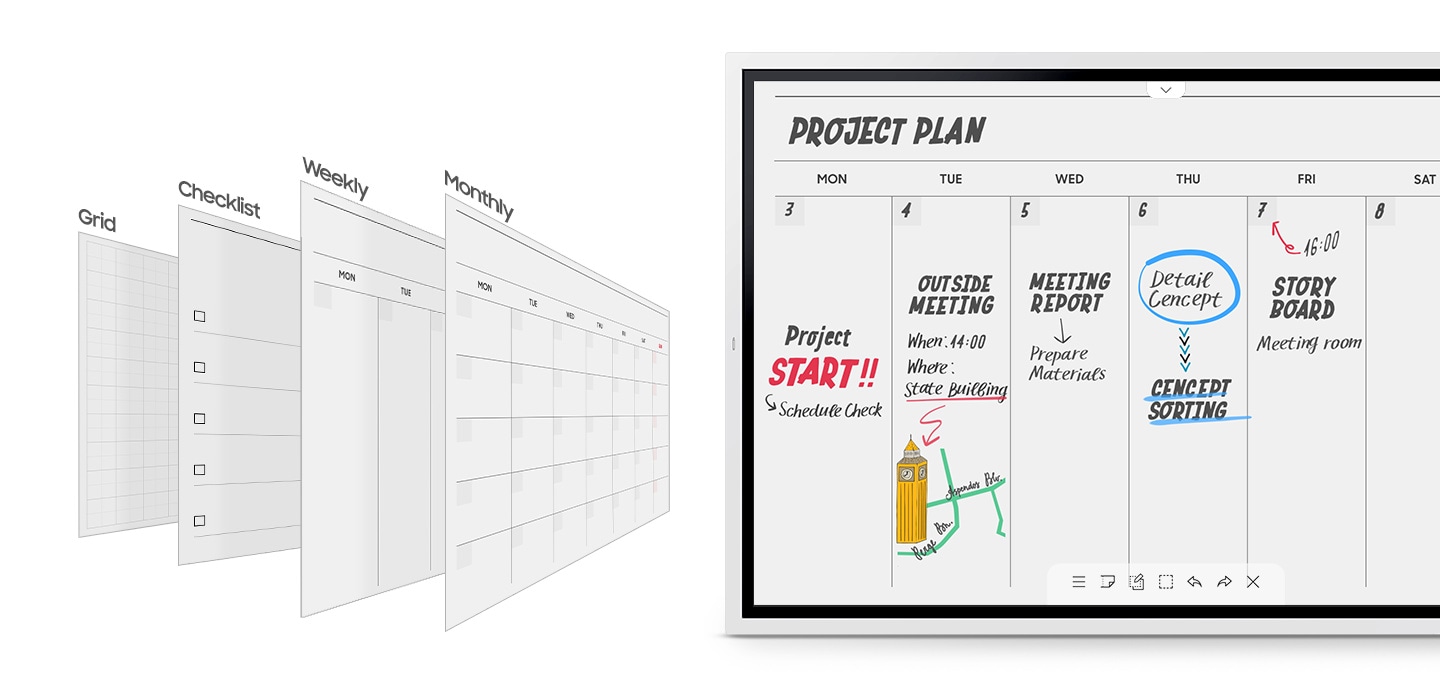 Easy content navigation & protection
Scroll & Lock
Samsung Flip 2 has up to 20 pages of writing space per roll, allowing users to seamlessly scroll through pages. In addition, the Flip 2 ensures that confidential meeting information remains in the right hands. Its reinforced lock system allows users to safeguard sensitive content from view.
Multiple connection options
Versatile connection
Users are empowered by the Flip 2's versatile connection options. USB, HDMI, NFC and screen sharing capabilities enable optimum collaboration and provide interactive content visibility, notation and sharing. The Flip 2 is also compatible with an optional Connectivity Tray, which provides a more powerful connectivity extension.
* Optional Connectivity Tray must be purchased separately.
Synchronised screen viewing
Touch out
The touch out functionality allows users to sync their compatible personal devices with the Samsung Flip 2, allowing real-time content sharing and control. Any changes made on the Flip 2 display will be mirrored on the connected device, and vice versa, for efficient collaboration.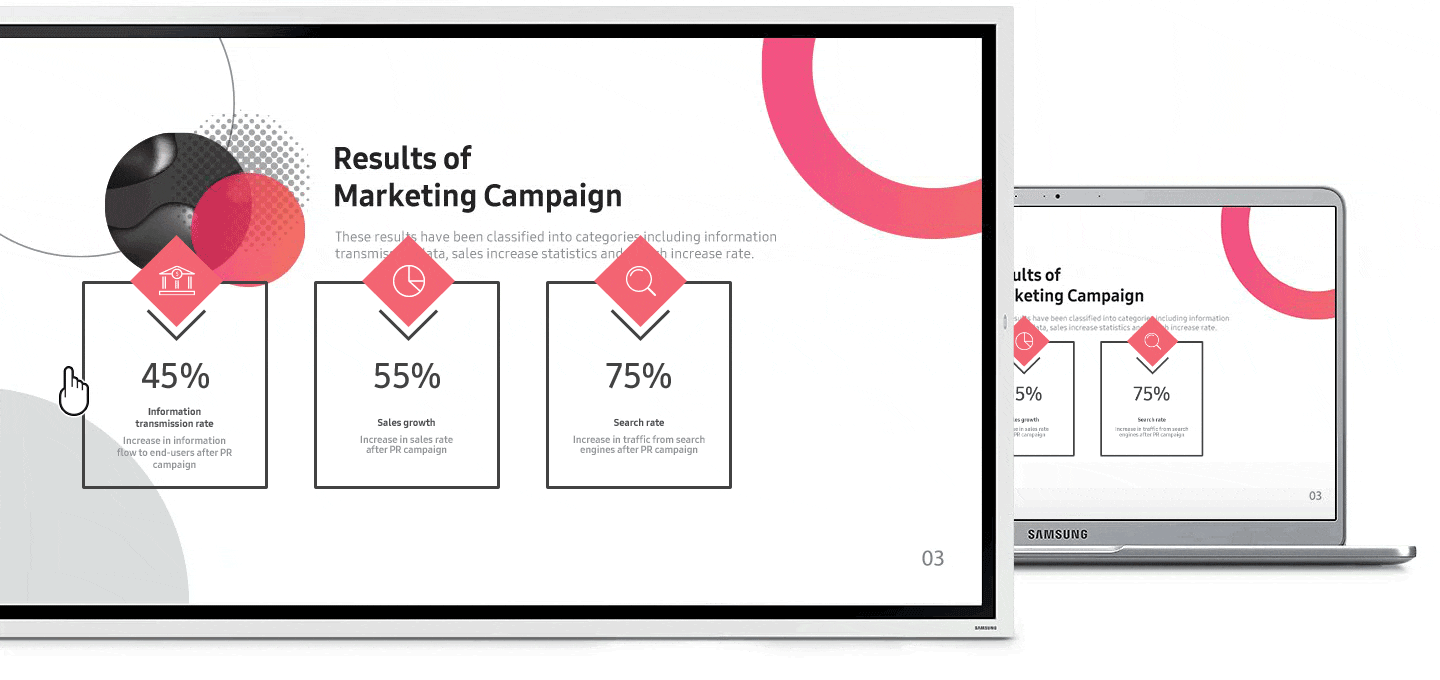 *Touch out control is available through a touch USB cable connection or UIBC-connected Android mobile devices (2016 or later) and Windows 10 PCs.
Connect from anywhere
Remote PC & Bluetooth® support
The Samsung Flip 2 allows users to connect their PC to the display remotely , meaning any meeting can be started without a PC to avoid delays and ensure efficiency. A Bluetooth® keyboard and, mouse can also be connected to the Flip 2, creating a convenient meeting environment.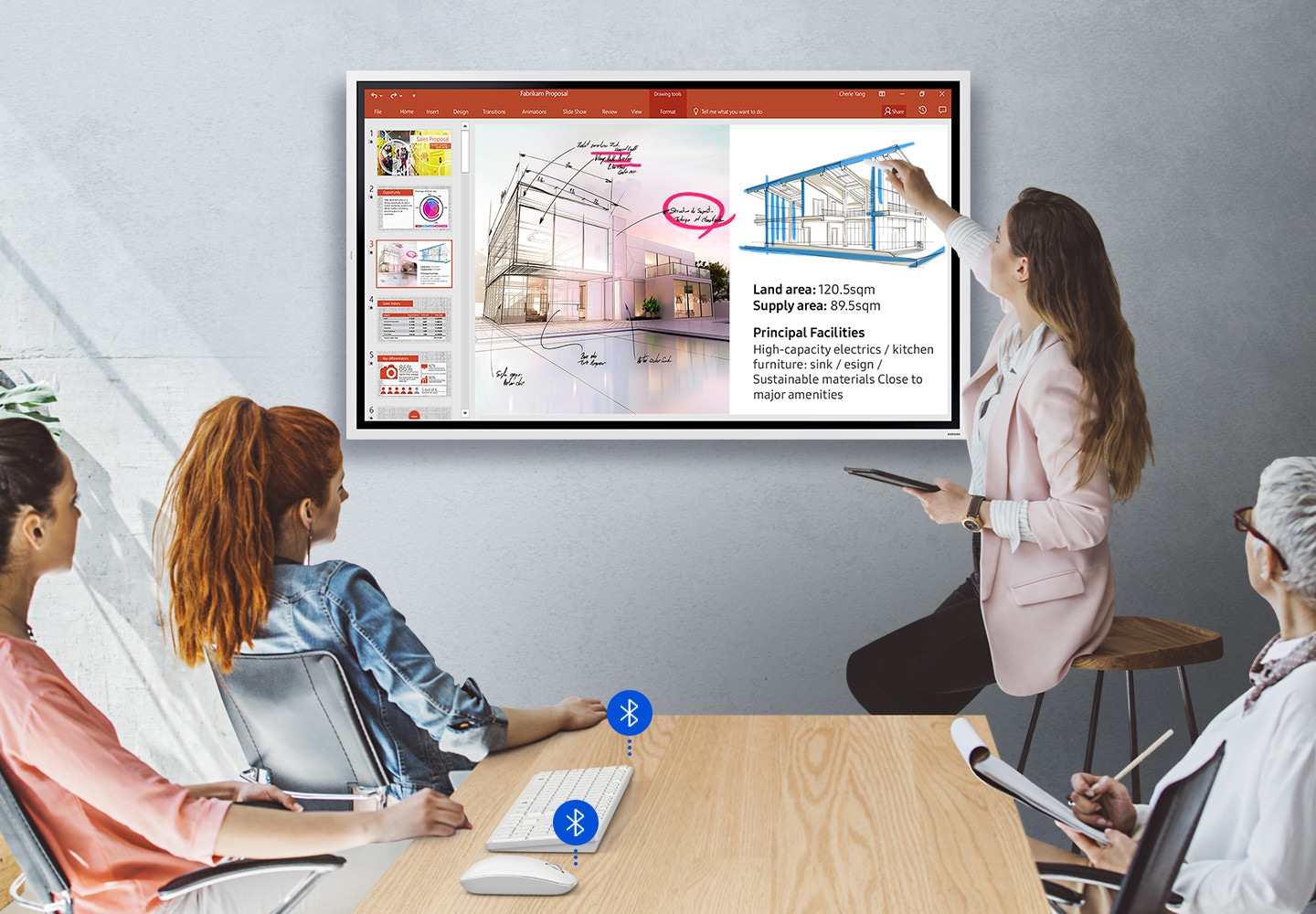 *PC, keyboard and mouse sold separately.
Large audience sharing
Screen share
Users can project content on Samsung Flip 2 to another large digital display in real time, using Wi-Fi® network or HDMI out connection. Even while connected to a personal device, the Flip 2 display can be shared. This feature is ideal for large meeting environments, delivering information to a larger audience.
Effortless meeting recap distribution
Easy sharing
Following any meeting, users can distribute recaps to all attendees and colleagues, removing the frustration traditionally associated with handwritten meeting notes. Important conversations and content are stored within the Flip 2 in real-time, easily shareable across mobile and digital channels.
Precise visuals with powerful operation
UHD display & Tizen OS
Samsung Flip 2 displays all content in clear UHD picture quality, regardless of the room, creating a compelling meeting environment. Backed by the powerful Tizen 5.0 operating system for a seamless user experience, embedded sensors automatically activate the display when the screen is knocked.
Convenient, optimised management
Advanced convenience
Samsung Flip 2 offers a host of improved capabilities, including secure wireless connection, automatic firmware updates, LDAP synchronisation, file security and remote management – ensuring a convenient and productive meeting experience.

*Samsung's Remote Management solution must be purchased separately.
Specification
Display

Diagonal Size

65"

Panel Type

New Edge, 60Hz

Resolution

3,840 x 2,160

Pixel Pitch (HxV)

0.372 x 0.372(mm)

Brightness (Typical)

350cd/m2 (220cd/m2 with glass)

Contrast Ratio

4,000:1

Viewing Angle (H/V)

178/178

Response Time

8ms

Color Gamut

72%

Glass Haze

2%(without glass)

H-Scanning Frequency

30 ~ 81khz

Maximum Pixel Frequency

594Mhz

V-Scanning Frequency

48~75 hz

Dynamic Contrast Ratio

N/A

Connectivity

HDMI In

2

DP In

N/A

DVI In

N/A

Tuner In

N/A

USB

1

Component In

N/A

Composite In

N/A

RGB In

N/A

IR In

N/A

HDBaseT In

N/A

Audio In

N/A

Audio Out

Stereo Mini Jack

Video Out

N/A

Power Out

N/A

RS232 In

Yes

RS232 Out

N/A

RJ45 In

Yes

RJ45 Out

N/A

WiFi

Yes

3G Dongle

N/A