Startech Dual Monitor USB-C Docking Station DK30C2DAGPD (3 years Local Warranty in Singapore)
$ 220.00 SGD

$ 220.00 SGD

Save

$ 45.00 SGD
---
---
Startech USB C Multiport Adapter | 4K 30Hz | 100W PD 3.0 | 2 USB A Ports | GbE | DP Alt-Mode Switch
Transform your Windows laptop into a dual-monitor workstation using this USB-C docking station. It offers support for dual DisplayPort monitors, 2 USB-A peripherals, a LAN port for GbE network access and an extended 1-meter host cable.

DisplayPort™ Alternate Mode to Choose Your Video Display Output
Achieve dual 1080p up to a single 4K 60Hz display using the DisplayPort™ Alternate Mode (DP Alt-Mode) configuration switch.
Switch Left

Switch Right  

2 Lane DP Alt- Mode

4 Lane DP Alt Mode

USB 3.0

(5Gbps)

USB 2.0

(480 Mbps)

Dual 1080p Monitors

or

Single 4K 30Hz Monitor

Dual 4K 30Hz Monitors

or

Single 4K 60Hz Monitor
Reliable 100W Power Delivery Passthrough
The USB-C multiport adapter uses your USB-C laptop's power adapter and can provide up to 100W Power Delivery (3.0) pass through with up to 85W for your host device for charging. The remaining wattage will power the docking station along with any attached USB-A peripherals such as smartphones and tablets.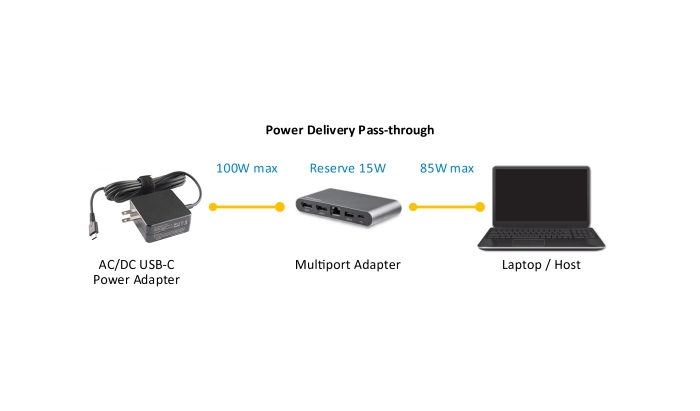 Multi-Stream Transport for Driverless Displays
The multi-stream transport technology (MST) in this dock powers two DisplayPort monitors with no driver installation required so you are up and running faster.
WHY YOU SHOULD BUY Starteck DK30C2DAGPD?
✔️ Ideal for mass Windows® based deployments
✔️ 100W PD 3.0 pass through with up to 85W for laptop charging

✔️ Supports Gigabit Ethernet network access and 2 USB-A ports for all your essential connections

✔️ Multi-stream transport technology ( MST)supports driverless displays
✔️ 3-year warranty and free lifetime technical support.
 

Tech Specs
HARDWARE

4K Support

Yes

Bus Type

USB-C

Chipset ID

VIA/VLI - VL102




VIA/VLI - VL170




VIA/VLI - VL817




MegaChips - STDP4320




RealTek - RTL8153

Displays Supported

2

Fast-Charge Port(s)

No

Industry Standards

IEEE 802.3, IEEE 802.3u, IEEE 802.3ab




USB 3.0 - Backward compatible with USB 2.0 and 1.1




PERFORMANCE

Auto MDIX

Yes

Full Duplex Support

Yes

Maximum Data Transfer Rate

5 Gbps (USB 3.0)




2 Gbps (Ethernet; Full-Duplex)

Maximum Digital Resolutions

Dual DisplayPort displays: Up to 4096 x 2160p @ 24Hz or 3840 x 2160p @ 30Hz





Single DisplayPort display: Up to 4096 x 2160p @ 60Hz or 3840 x 2160p @ 60Hz





Single UltraWide DisplayPort display - Up to 3440 x 1440p @ 60 Hz





Lower resolutions are also supported. For example, if the max is 3840 x 2160p (4K), it also supports 2560 x 1600p and 2560 x 1440p.

Type and Rate

USB 3.0 - 5 Gbit/s

UASP Support

Yes

CONNECTOR(S)

Connector Type(s)

1 - USB Type-C (24 pin) USB 3.0 (5Gbps) Male

1 - USB-C (24 pin) USB Power Delivery only Female

2 - DisplayPort (20 pin) Female

1 - RJ-45 Female

1 - USB Type-A (9 pin) USB 3.0 Female

1 - USB Type-A (4 pin) USB 2.0 Female

SOFTWARE

OS Compatibility

Windows® 7, 8, 8.1, 10

SPECIAL NOTES / REQUIREMENTS

Note

For a dual-monitor configuration the host laptop must support MST.

Not all USB-C ports support the full functionality of the USB Type-C standard. Ensure that your host USB-C port supports USB Power Delivery 2.0 or 3.0 and DP alt mode.

The adapter can connect to a host laptop's USB-C port that doesn't support USB Power Delivery 2.0 or 3.0. However, in this configuration if a power adapter is connected to the multifunction adapter, it will not pass power through to your host laptop.

The multiport adapter provides limited Chrome support (no MST support; Ethernet only when using bus power).

The multiport adapter provides limited Android support (no MST support).

A 4K-capable display is required to achieve 3840 x 2160p resolution (4K is also known as 4K x 2K)

Video output capabilities are dependent on the video card and hardware specification of your connected laptop.

USB 3.0 is also known as USB 3.1 Gen 1; this connectivity standard offers speeds up to 5Gbps.

Your laptop may have specific requirements for charging. This USB-C multiport adapter supports USB Power Delivery 3.0, up to 100W. When using your laptop's USB-C power adapter, the multiport adapter powers both the adapter (with attached peripherals) and your laptop - with up to 85W charging available for laptop charging. For more information on your laptop's charging requirements, refer to the manufacturer of your laptop.

Through support of USB Power Delivery 3.0, the multiport adapter supports Fast Role Swap which prevents USB data disruption when you unplug to switch power sources (USB-C power adapter to bus power).

In USB 3.0 mode, the maximum Ethernet speed is 1000 Mbps. In USB 2.0 mode, the maximum Ethernet speed is 100 Mbps.

System and Cable Requirements

A host laptop with an available USB-C port (to ensure full adapter functionality, the host USB-C port must support USB Power Delivery 2.0 or PD 3.0 and DP alt mode)

Optional: USB-C power adapter (for example, your laptop's USB-C based power adapter)

POWER

Laptop Charging via Power Delivery

85W

Power Consumption (In Watts)

15W

Power Delivery

100W

Power Source

Bus Powered and Host USB-C Power Adapter

ENVIRONMENTAL

Humidity

0~95% RH (Non-condensing)

Operating Temperature

0°C to 50°C (32°F to 122°F)

Storage Temperature

-20°C to 70°C (-4°F to 158°F)

PHYSICAL CHARACTERISTICS

Color

Black

Material

Plastic

Product Height

0.7 in [1.9 cm]

Product Length

4.7 in [12 cm]

Product Width

2.4 in [60 mm]

Weight of Product

7.1 oz [200 g]

PACKAGING INFORMATION

Package Height

1.7 in [42 mm]

Package Length

8.2 in [20.8 cm]

Package Width

5.7 in [14.5 cm]

Shipping (Package) Weight

7.8 oz [220 g]

WHAT'S IN THE BOX

Included in Package

1 - Multiport Adapter

1 - USB-C Cable

1 - Quick-Start Guide
 

Click here for More Details on Startech USB-C Dock DK30C2DAGPD


<!-– -->