Description
StarTech Desk-Mount Dual Monitor Arm - Full Motion Articulating - Premium ARMDUAL30 
(10 Years Manufacture Local Warranty In Singapore)
Monitor Mount | Height Adjustable | Horizontal or Vertical Setup | Tool-less Assembly
Create a dual-monitor setup, side by side (for up to 30" monitors) or stacked (for up to 24" monitors)
Full-motion arms with articulation and spring-assisted height adjustment
Easy tool-less assembly, and interchangeable arms for flexible setup
Create a dual-monitor setup, side by side (for up to 30" monitors) or stacked (for up to 24" monitors)
Full-motion arms with articulation and spring-assisted height adjustment
Easy tool-less assembly, and interchangeable arms for flexible setup
Customize your workspace like never before with this premium desk-mount dual monitor arm. It supports two VESA (75x75, 100x100) monitors, side-by-side or stacked. The full-motion articulating arms with spring-assisted height adjustment let you reposition your monitors with ease.
Horizontal or Vertical Setup
Create a dual-monitor setup to suit your needs, using the interchangeable arms with quick-connect assembly.
In a horizontal setup, the dual-monitor mount supports two monitors from 12" to 30". It's ideal for numerous uses including graphic design, photo editing and many others.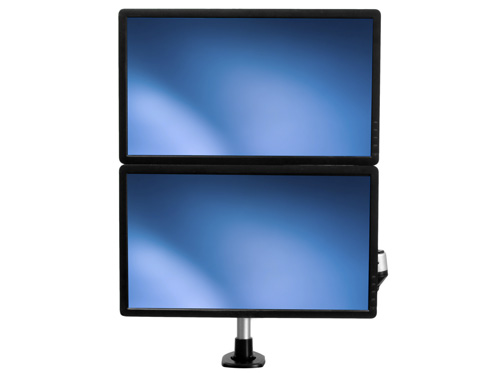 As a vertical monitor stand, the dual-monitor arm supports two monitors from 12" to 24". A stacked setup makes it easy to compare information on two screens without scrolling. Please note:  To support two stacked 24" monitors, the height of each monitor (including the bezel around the display) cannot exceed 14" (35 cm).
Full-Motion Articulating Arms
The adjustable dual monitor arm offers a full range of motion on several axes, letting you tilt, pan and rotate. Switch from landscape to portrait viewing. 
Spring-Assisted Height Adjustment 
Raise or lower your monitors with one smooth motion, using the spring-assisted height adjustment. Adjust the tension to your own preference. 
Durable Construction
With its steel and aluminum construction, the dual monitor mount supports a weight capacity of 19.8 lb. (9 kg) per arm. 
Tool-less Assembly 
The quick slide-and-click connections make the dual-monitor mount easy to assemble. Clamp the monitor mount to the side of your desk or table (using the pre-installed desk clamp) or attach it through a grommet hole.  
The TAA compliant ARMDUAL30 is backed by a 10-year StarTech.com warranty and free lifetime technical support.
Also seen in the collections
Full Collection for StarTech
Payment & Security
Your payment information is processed securely. We do not store credit card details nor have access to your credit card information.