Description
Jabra Speak2 40 MS Teams Speakerphone 2740-109
(2 Years Manufacture Local Warranty In Singapore)
Microsoft Teams Enabled Speakerphone
Equipped with four digital MEMS microphones, a built-in speaker, and a Microsoft Teams call button, the
Jabra Speak2 40 Speakerphone
is an ultra-portable solution for all of your conferencing needs. The unit is best suited for room sizes 14.76 by 14.76'. Full duplex audio with beamforming, noise-cancelling microphones ensure all participants are heard. Its plug-and-play configuration makes for easy setup with your Windows, ChromeOS, or macOS computer.
Full Duplex Audio with Embedded Voice Technology
The Speak2 40's built-in speaker and four microphones are engineered for full duplex audio, allowing all participants to speak and be heard simultaneously. This helps bridge the gap between in-person and virtual participants and facilitates collaboration. Voice Level Normalization technology equalizes all voices to the same volume level and Acoustic Echo Cancellation reduces noise interference.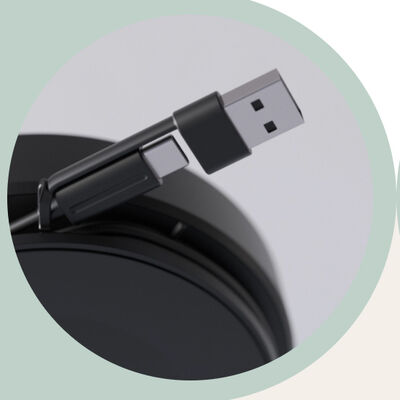 Wide Compatibility
While this model of the Speak2 40 is specifically certified for Microsoft Teams and features a Microsoft Teams button on its top panel, the speakerphone is also compatible with Google Meet and Zoom. The USB-A and USB-C connectors on the integrated 31.5" cable plug into your Windows, macOS, or ChromeOS computer.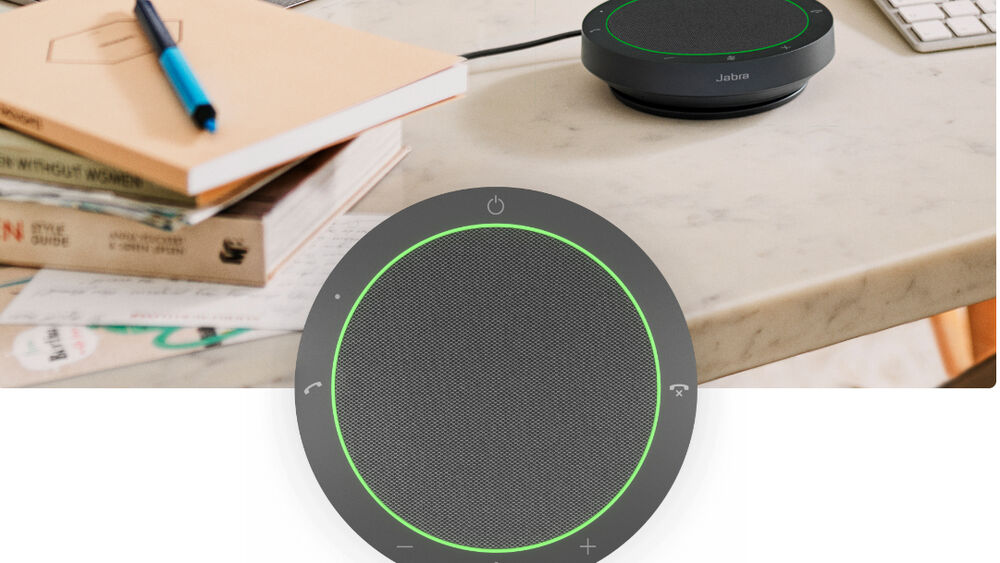 Onboard Controls
Turn the speakerphone on and off, end or answer a call, adjust the volume, and even mute yourself with the onboard touch controls. The Microsoft Teams button can bring the application to the foreground of your computer, join an active meeting, view missed calls or voicemails, and raise/lower your hand during a meeting.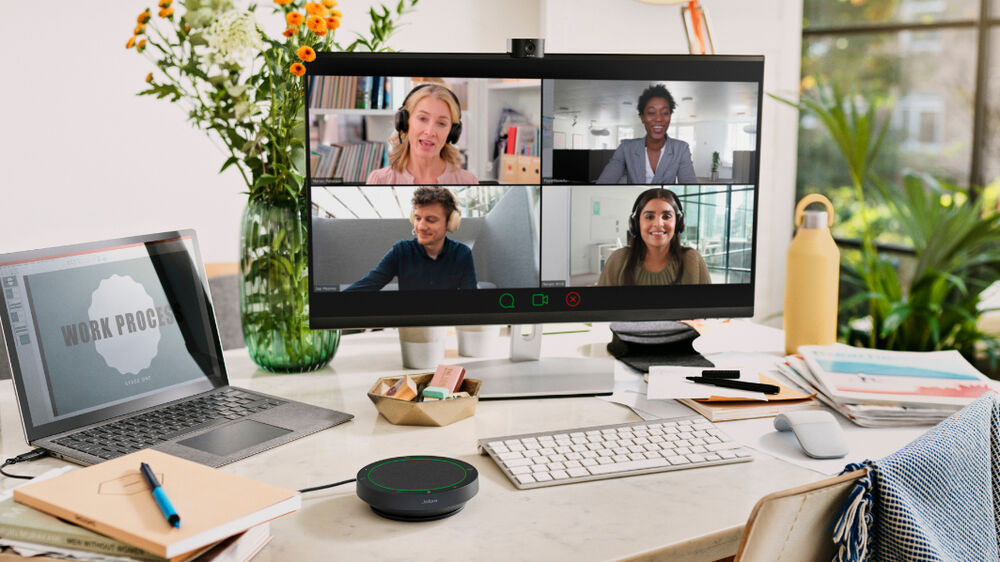 Durable and Portable Design
Compact enough to slip into a bag, the speakerphone can easily be taken on the go. The unit is IP64 rated for protection from both dust and water. An included carry pouch provides additional security when not in use.
Technical specifications
Ideal for room sizes
Up to 4.5m x 4.5m | 14.76ft x 14.76ft

Number of microphones
4

Microphone type
Digital MEMS

Microphone frequency range
150Hz - 7000Hz

Microphone pick up range
Up to 2.3m | 7.5ft

Full Duplex
Yes

Speaker size
50mm | 1.97in

Peak audio output
85 dBspl @ 0.5m

Speaker bandwidth (music mode)
100Hz - 20000Hz

Speaker bandwidth (speak mode)
150Hz - 7000Hz

Acoustic echo cancellation (AEC)
Yes

Voice Level Normalization (Automatic Gain Control, AGC)
Yes (for outgoing audio)

Wideband
Up to 8000 Hz

Noise reduction on calls
Yes
FAQ
How is the Speak2 Series different from the Speak Series?
The original Speak Series revolutionised the way people collaborate, becoming the world's leading professional speakerphone solutions. But the world of work has changed, with more than 80% working hybrid. So, the Speak2 Range is engineered specifically to address the new demands and needs of hybrid work. With improvements on all levels and packed with new advanced technology, Speak2 solutions deliver truly outstanding collaboration experiences wherever you might be working from.
Does Speak2 40 have Bluetooth connectivity?
No
Does Speak2 55 have Bluetooth connectivity?
Yes. It has Bluetooth version 5.1 with a wireless range up to 30m/98ft.
Can I connect to Speak2 40 using both USB-A and USB-C?
Yes. Speak2 40 comes with both USB A and USB C connectors on the cable.
Can I stream music to my Speak2 40?
Yes. With its 50mm full-tone speaker, Speak2 40 delivers outstanding music experience.
Does Speak2 40 work with both Mac and PC?
Yes. It is fully compatible with both systems.
What are the benefits of Speak2 models that are certified for Microsoft Teams?
Speak2 models that are certified for Microsoft Teams support Microsoft Teams as a plug-and-play experience. Plug-and-play experience includes these benefits:
Automatic selection as the default audio device.
Dedicated Microsoft Teams button:

Microsoft Teams LED flashes purple for

Microsoft Teams meeting ready to join
Microsoft Teams missed call
Microsoft Teams voicemail received

Microsoft Teams LED flashes purple for an incoming Microsoft Teams call
Invocations

Opening the meeting "pre-join" screen
Open missed calls screen
Open Microsoft Teams voicemail screen
Bring up Microsoft Teams client from the background
Raise/Lower hand during Microsoft Teams meeting
If you are not using Microsoft Teams as your UC client, we recommend choosing the standard UC variant, which is certified for all leading UC platforms like Google Meet, Zoom and more.
Review
Also seen in the collections
Full Collection for Jabra
Payment & Security
Your payment information is processed securely. We do not store credit card details nor have access to your credit card information.